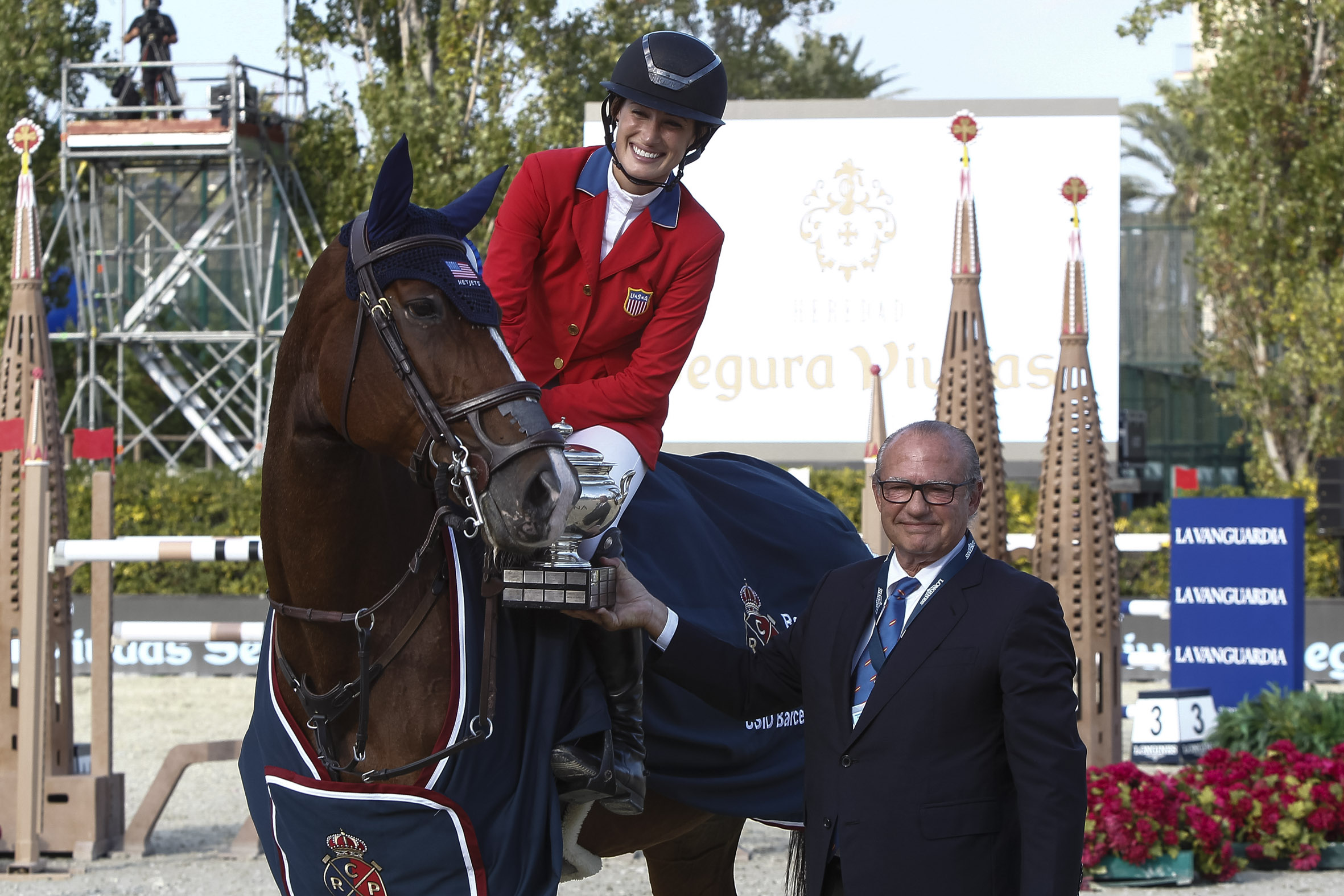 The Queen's Cup-Segura Viudas Trophy, second individual competition of CSIO Barcelona, ​​has had the most mediatic winner: Jessica Springsteen, The Boss's daughter, who has conquered her first great victory. After the first phase, that 18 participants completed without penalty, the American Springsteen, riding RMF Swinny Du Parc, finished the jump-off in second place. The elimination of the Belgian Niels Bruynseels, that had been the fastest, has allowed her to place first in the podium. Pieter Devos, also from Belgium, riding Gin D, placed second, while the Irish Michael G. Duffy has been classified third with Chappo Chey.
The best Spanish representative was Eduardo Álvarez Aznar, who finished twelfth, just ahead of Paola Amilibia.
Tonight at 9 pm the Longines Challenge Cup will be disputed amongst the seven non-classified team of yesterday's qualifying round.
Delux Van T&L (Niels Bruynseels) BEL
Belgian rider Niels Bruynseels and Delux Van T&L were eliminated from today's jump-off for the Queen's Cup after blood was found on the horse's flank (right-hand side) in the post-competition check.
Under Article 241.3.3 of the FEI Jumping Rules, elimination is automatic when blood is found on a horse's flank or flanks.
"Elimination under this Article of the Jumping Rules does not imply that there was any intent to injure the horse", President of the Ground Jury Jon Doney (GBR) said, "but it is crucial that the rules are enforced in order to ensure that horse welfare is protected."
Under Article 247 of the FEI Jumping Rules, an athlete who is eliminated in a jump-off will be placed last of the athletes who have completed the jump-off. As a result, Niels Bruynseels and Delux Van T&L were placed 18th in the competition.