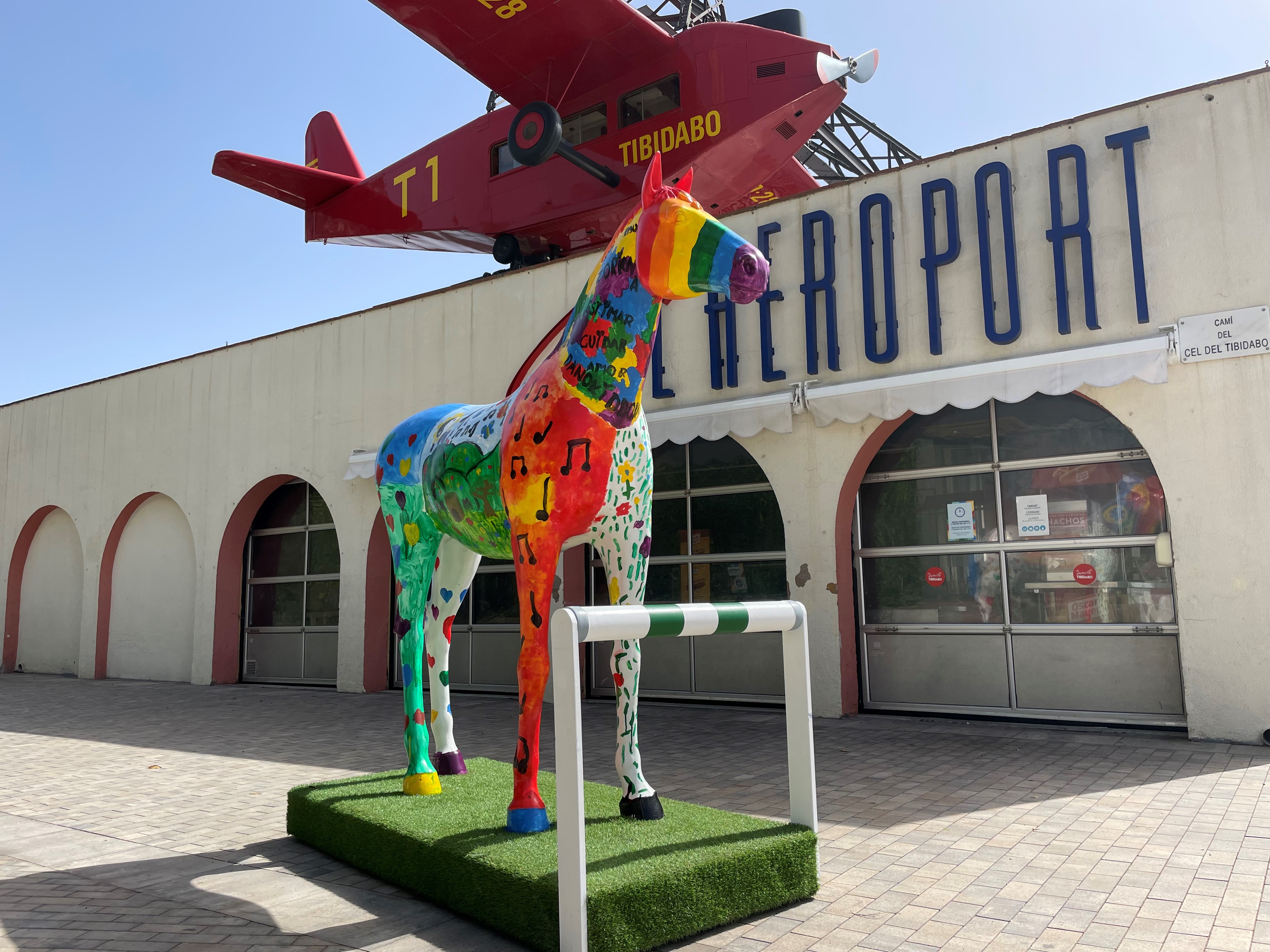 This morning the Tibidabo Amusement Park has received a very special visit. It is "K-Balli", the fiberglass horse that stars in the sixth edition of the #bcnalgalop action of the Barcelona Equestrian Challenge (BECH) with the support of the RCPB Foundation. This friendly horse, decorated and painted by the students of the Orlandai School, will make a tour this summer through some of the most emblematic places of Barcelona, waiting for the arrival in late September of the CSIO Barcelona, the most important equestrian competition of the year.
On this occasion, the children reflect through their design, peace and coexistence in the world. "K-Balli" aims to bring the horse World to the youngest, emphasizing the love of nature, the values of sport and respect for people.
"K-Balli", like its predecessors, is looking forward to doing many activities this summer. He will spend a few days having fun at the Tibidabo Amusement Park, riding the most popular attractions. He will spend a week at Terminal 1 of Barcelona-El Prat Josep Tarradellas Airport. He also plans to go shopping at the l'Illa Commercial Center to prepare for the next CSIO Barcelona edition. He will also have time to visit a few days the city center sharing space in the fantastic imaginCafé and will finish his city tour making a stop at the Olympic Museum inviting all his friends to the CSIO Barcelona, the most important team competition in the equestrian calendar.
TAKE A PHOTO WITH "K-Balli" and win tickets for the CSIOB Barcelona!
FACEBOOK: https://www.facebook.com/csiobarcelona/
INSTAGRAM: https://www.instagram.com/csiobarcelona/
During these weeks there will be a draw for three double tickets on the CSIO Barcelona Facebook and Instagram pages. Take a selfie with "K-Balli", posts it with the hashtag #bcnalgalop and win tickets for the CSIO Barcelona 2022 to be held from September 29th – October 2nd at the Real Club de Polo de Barcelona.
The students of the Orlandai School, like many others in our city, have participated this year in the "Cavall i Esport" activity organized by the BECH (Barcelona Equestrian Challenge) together with the IBE (Institut Barcelona Esport), which allows them to enjoy, during school hours, an equestrian class for free at the Real Club de Polo de Barcelona riding school. This activity is open to all schools in the city.
THE "K-Balli" AGENDA:
- Tibidabo Amusement Park from July 4 to 18.
- Terminal 1 of Barcelona Airport - El Prat Josep Tarradellas from July 18 to 29.
- Centre Comercial L'Illa from 1 to 8 August.
- imaginCafé from September 1 to 9.
- Olympic Museum from September 12 to 26.
- CSIO Barcelona from September 29 to October 2.