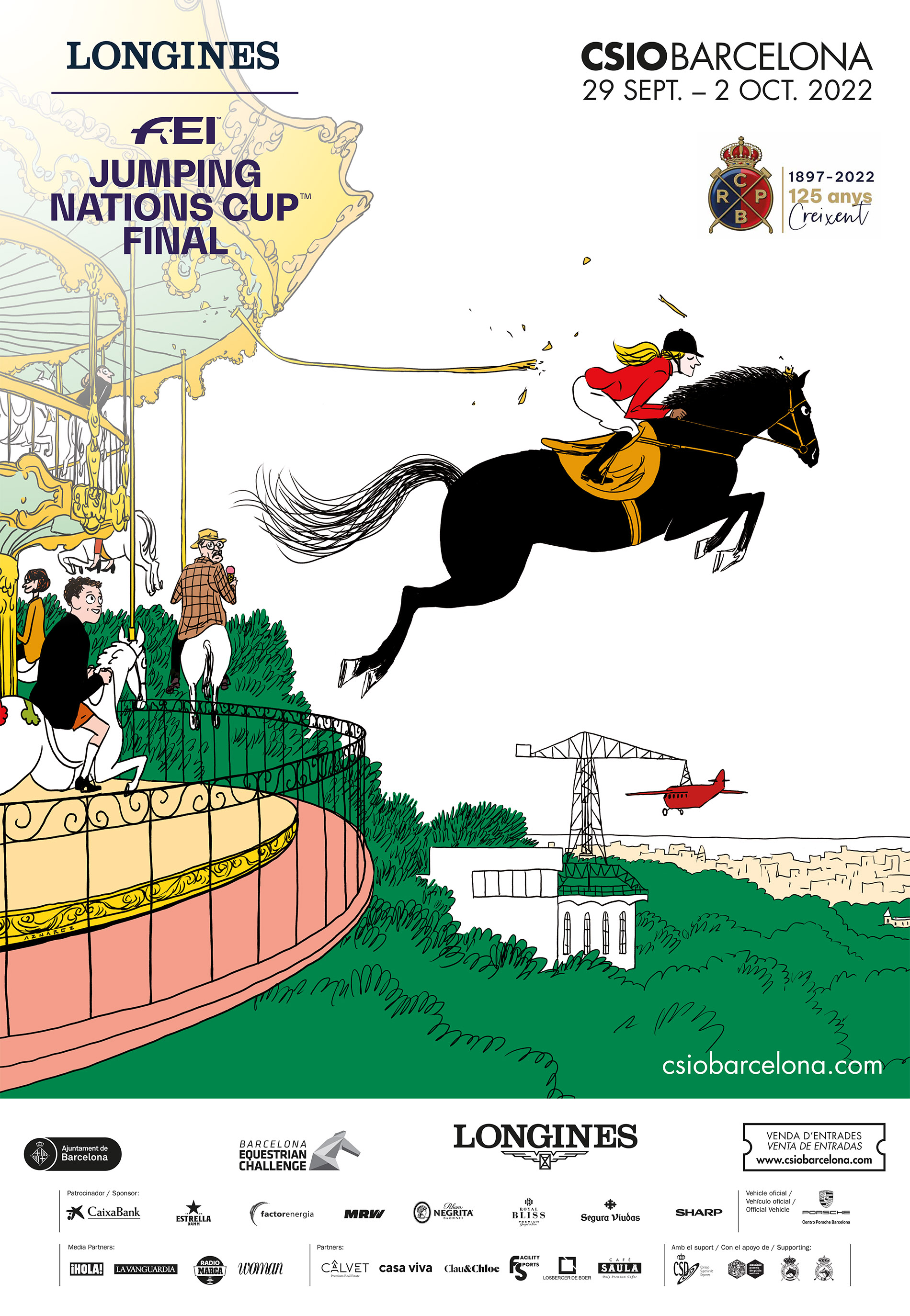 The popular amusement park and its centenary carousel take center stage in the poster for the 110th CSIO Barcelona. Created by Javi Aznarez, a young Catalan illustrator who has been living and working for ten years in his workshop-gallery Tabakov in Cadaqués, the new image of the world's most important team show jumping competition features one of the horses that decides to take flight over Barcelona.
After the success of previous posters created by young Catalan artists such as Conrad Roset (2018), Julián Hernández (2019) and María Diamantes (2021), the organization of the event has bet this time on the talent of Javi Aznarez, cartoonist and ilustrator, whose collaboration in Wes Anderson's film, The French Dispatch, brought him to international fame.
Influenced by European comics and illustrators such as Quino or Edward Gorey, Aznarez was very clear that he wanted to introduce a bit of humor in the image of the CSIO Barcelona 2022. He admits that "I like to play with absurdity and sarcasm to draw the bizarre world we live in. I knew several of the posters that had been made in previous years. They all followed a very elegant line and I felt like giving them a touch of humor."
For Aznarez, comics is an art like cinema or literature, there are all genres and for all ages. He says that his illustrations convey information in a friendly way. To create the CSIO Barcelona poster, he recalls that he gave it a lot of thought "I took it to my field, looking for situations that I have lived, heard or imagined and related them to the subject in question. With regard to the horse, the Real Club de Polo and the CSIO Barcelona, it was very easy for me because as a child I had been a member and I had ridden. Remembering that time and thinking about horses, the Tibidabo Carousel came up."
Javi Aznarez concludes that all the elements of the poster have a very special meaning, "Tibidabo, Polo and Barcelona remind me of my childhood, of weekends with my family".
The image of the CSIO Barcelona will travel around the world to publicize an event that will be held from September 29th to October 2nd, turning Barcelona into the world equestrian capital. For the ninth consecutive year, the 110th edition of the CSIO Barcelona will host the Longines FEI Nations Cup Final, the most important equestrian event in the international equestrian calendar.